Mount Emei in Sichuan Western China
View from top of Emei Shan. Sea of clouds.
Guangfu pavilion, with summit visible in background
Bao Guo Temple in Emei Mountain
Buddhist temple at Mt Emei
Shaolin Temples gate.
Mount Emei is one of the Four Sacred Buddhist Mountains of China, and is traditionally regarded as the bodhimaṇḍa, or place of enlightenment, of the bodhisattva Samantabhadra.
16th and 17th century sources allude to the practice of martial arts in the monasteries of Mount Emei[4] made the earliest extant reference to the Shaolin Monastery as Chinese boxing's place of origin.[5]
Buddhist architecture on Emei
This is the location of the first Buddhist temple built in China in the 1st century CE. The site has seventy-six Buddhist monasteries of the Ming and Qing period, most of them located near the mountain top. The monasteries demonstrate a flexible architectural style that adapts to the landscape. Some, such as the halls of Baoguosi, are built on terraces of varying levels, while others, including the structures of Leiyinsi, are on raised stilts. Here the fixed plans of Buddhist monasteries of earlier periods were modified or ignored in order to make full use of the natural scenery. The buildings of Qingyinge are laid out in an irregular plot on the narrow piece of land between the Black Dragon River and the White Dragon River. The site is large and the winding foot path is 50 km, taking several days to walk.
Cable cars ease the ascent to the two temples at Jinding (3,077 m), an hour's hike from the mountain's peak.
Visitors to Mount Emei will likely see dozens of Tibetan Macaques who can often be viewed taking food from tourists. Local merchants sell nuts for tourists to feed the monkeys. Some monkeys may be seen eating human food such as potato chips and even drinking soda from discarded bottles.
Tibetan macaque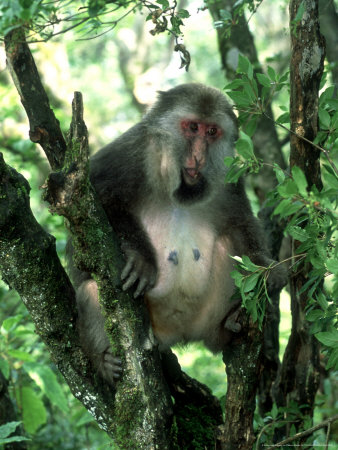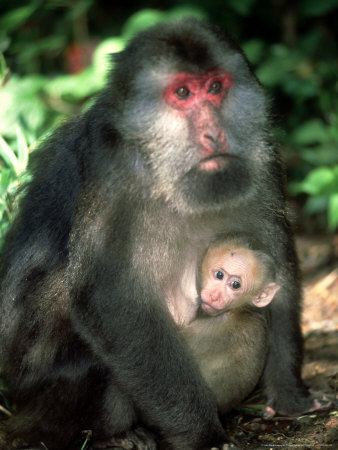 Source:
http://en.wikipedia.org/wiki/Mount_Emei