The ethics of getting a job
Patrick McCabe July 26, 2011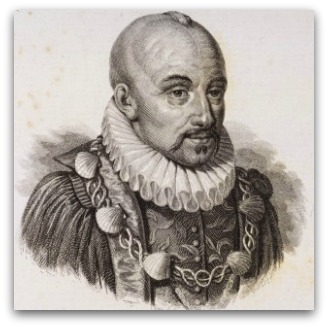 Montaigne retired to a chateau to write and think, emerging occasionally to involve himself in local politics.
Montaigne felt his critics were too demanding:

'They are unjust to exact from me what I do not owe, far more rigorously than they require from others that which they do owe,

' he complained.

Montaigne did not feel he owed anyone anything. As long as he did not actively take, who would have the temerity to ask him to give?
'The human person is created to praise, reverence, and serve God', he wrote. 'Thus ... we should not want health more than illness, wealth more than poverty, fame more than disgrace, a long life more than a short one ... but we should desire and choose only what helps us more towards the end for which we are created.'
He adopted as his mantra: 'What have I done for Christ? What am I doing for Christ? What will I do for Christ?' Loyola felt life was about a calling, a mission from God to live our lives in his service.
Will it be sufficient that, like Montaigne, I have a happy disposition, find a job I enjoy, and do no harm? Or ought I to follow Loyola's philosophy, and regard 'happiness' as simply a distraction from the real goal of life — 'to serve'?
In his book,

The Pleasures and Sorrows of Work

, Alain de Botton expresses skepticism at the notion of a 'calling' that so influenced Loyola. He believes 'calling' is an 'unfortunate' term, prone to torturing us with false hopes of fulfillment and meaning.
... he laments that a 'secularized' version of the notion persists. Oprah Winfrey proved his point when, on her recent final show, she gave her fans one last piece of advice: 'Start embracing the life that is calling you and use that life to serve the world.'
Botton seems more sympathetic to the views of a career counselor he observes, who believes one's career is 'an act of self-hood'. A good career, according to him, is one that makes you happy, one where you do what you love.
...
sees no contradiction in complaining that his fellow citizens demand from him 'what I do not owe'. His incredibly privileged youth has left him with no feeling of obligation towards his much less fortunate fellow humans.
The work nearly two decades of education has involved, if the objective of all that was simply my contentedness, the means were disproportionate to the end.
Employment is about remuneration for labour, not changing the world. If one wishes to practice altruism, perhaps that is best pursued through volunteering.
In this way, a happy, ethical life can be attained, by working in a field you enjoy, and then volunteering in one's spare time.
Patrick McCabe studies Law and is a contributor to the Adelaide University magazine On Dit. With this essay he won Eureka Street's 2011 Margaret Dooley Award for Young Writers.